Chronic Myeloid Leukemia – Information for Patients and Their Relatives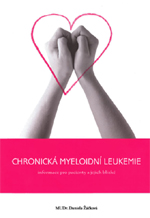 Prognosis of patients with chronic myeloid leukemia (CML) has been dramatically improved with the introduction of tyrosine kinase inhibitors into clinical practice. Along with targeted therapy high efficacy and its nonnegligible expense, focus has been on regular and careful monitoring of treatment efficacy and on management of potential problems such as resistance or intolerance to treatment. In light of this, not only a well-educated hematologist but also a well-informed, cooperating and compliant patient supported by analogously educated relatives is necessary for optimal CML patient management.
The information booklet presented here outlines a full-spectrum overview regarding CML issues, beginning with disease pathogenesis elucidation, moving on to diagnosis, and detailing comprehensive information about therapy. Content is highlighted in a "reader-friendly" format, professionally detailed, and updated to 2012.

This brochure was published by The Czech Leukemia Study Group for Life (CELL) with the understanding that awareness resulting from information access for patients with hematological malignancies and their relatives is one of the most critical points for successful diagnostic and therapeutic management.

For ordering, please contact

Daniela Zackova, M.D.
Dpt. of Internal Medicine, Hematology and Oncology University Hospital and Masaryk University Brno, Jihlavska 20
625 00 Brno
Czech Republic
Tel.: +420532233642, +420532232838
Fax: +420532233603
E-mail: dzackova@fnbrno.cz

CML information for free download
Chronichá Myeloidní Leukemie
(3.5 MB)
Informace pro pacienty a jejich blizké